Calista Flockhart and Harrison Ford are one of Hollywood's golden couples. Most people remember Flockhart from the hit comedy Ally McBeal. Ford is probably best known for his work for Star Wars and Indiana Jones' films.
Against most odds, the two actors have been able to maintain a prosperous and happy marriage. Flockhart and Ford share their inside perspective on the secret to their success when it comes to love and marriage. Take a stroll down memory lane and reflect on how these two ended up in each other's arms.
Calista Flockhart's romantic past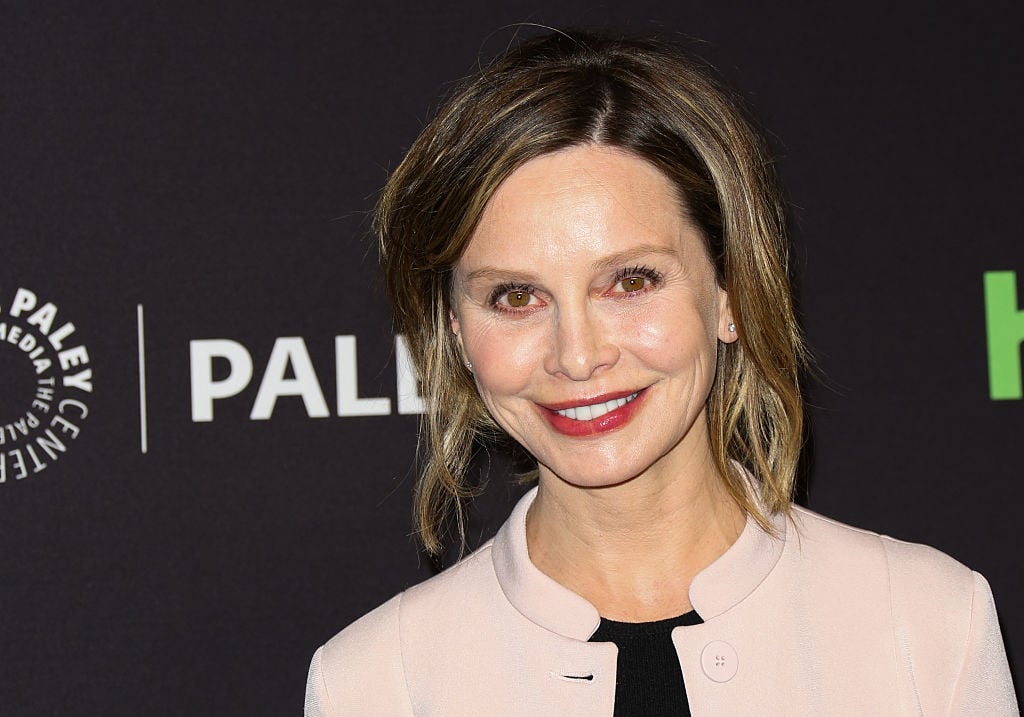 For five seasons Flockhart worked as the main character of the drama series Ally McBeal. What some fans may have not realized was that Flockhart spent the first few years of the show in an on and off relationship with the show's creator, David E. Kelley. Unfortunately, the two were not destined to work out. 
Shortly after, Flockhart began dating the English film director and screenwriter Sam Mendes. This was around the same time Mendes directed the award-winning movie American Beauty. Their fleeting relationship quickly ended, but Flockhart did not let that get her down when it came to dating.
Though there isn't a ton of information and details surrounding their dynamic, it seems like Flockhart got together with Robert Downey Jr. in 2000. Downey Jr. made a reputation for himself in the movie business as one of the highest-paid actors of his time. Since the relationship between them was a bit of a mystery, no one is sure why it may have not worked out for them as a couple.
Harrison Ford's past dating life
Ford was married twice before he finally settled down with Flockhart.
Ford's first wife, Mary Marquardt, resulted in the birth of two of his sons, Benjamin and Willard. It is rumored that Ford's marriage to Marquardt ultimately came to an end in 1979 due to another woman in Ford's life. That woman was most likely Melissa Mathison.
Ford met Mathison in 1976. Mathison was a well-known screenwriter in the television and movie industries. In 1983 she married Ford, and they eventually had two children, Malcolm and Georgia.
After much time together, the couple separated and filed for divorce. In 2004, the divorce was officially finalized, which made things a little bit easier for Ford who had already begun looking for his next mate.
It was no surprise to the public that another one of Ford's marriages ended in divorce. Throughout his married years, it has been documented that Ford has had affairs with celebrities like Carrie Fisher and Eve Babitz. Though Fisher was eventually very candid about her time with Ford, she did admit that eventually regretted being so open and honest with her revelation. Nonetheless, Ford continued on his trek for true love.
In 2001 Ford was with Minnie Driver for a short time. The two stars both found themselves newly single and started exploring the option of being a couple. Unfortunately, the relationship lasted a few weeks before coming to an abrupt end.
How Harrison Ford met Calista Flockhart
Everything changed for Ford and Flockhart at the 2002 Golden Globe Ceremony. Both seemed to be completely smitten with one another after meeting each other for the first time at the award ceremony. It wasn't long after that the two started dating.
Many people were shocked to see them get together since Ford is 22 years older than Flockhart, but neither one seems to mind or notices the age difference.
When they first started dating, Ford and Flockhart had to try their hardest to keep their relationship on the low since Ford's divorce was still in the works. However, the first chance he got Ford was beyond excited to share his new relationship with the world. The couple finally got married in 2010.
Harrison Ford and Calista Flockhart's secrets to a happy marriage
From their photos to the way they live their lives, the love between Ford and Flockhart is extremely evident. When fans question how the couple has managed to stay together for so long, Flockhart has shared that laughter and humor are at the heart of their marriage.
When asked by Closer Weekly about the secret to her marriage, Flockhart said they make each other laugh. The actress once told Fox News: "Harrison and I laugh a lot, and humor is everything to me."
But there's more to their relationship than humor and good times. The two stand by each other through thick and thin.
Case in point: In 2015, Ford was involved in a near-fatal plane crash that caused Flockhart some serious stress. Her dedication and worry for her husband were truly admirable and a display of her love for Ford. Not to mention her ability to support him on his flying endeavors even after his near-death experience.
"Calista spent most of the weekend on Harrison's side. She arrived early every morning and returned home late every night. She was under stress," said a source to People.
In spite of her stress, Flockhart is supportive of her husband's passion for aviation.
"My wife, who is a wonderful lady, understands my passion for aviation, she understands what it means to me and flies with me to this day," Harrison said after the crash, according to People.
Source: Read Full Article