Warning: This post contains spoilers for Stranger Things 3! Stop reading now if you haven't seen the season yet.
When it comes to TV shows, we grow to love characters over the span of many episodes, and often many years. However, there are also some characters that come into your life for just a couple of episodes―but the mark that they leave is indelible. And I'm here to say that Alexei from Stranger Things is one of those characters.
Let's backtrack a little. Alexei was an engineer working at one of the Russians' secret underground bunkers, and Hopper and Joyce took (well, pretty much kidnapped) him in order to get some answers about what was going on around Hawkins. They try to get some information out of Alexei, but he refuses to answer until he's given Whoppers from Burger King and a Cherry 7/11 Slurpee (he'll settle for Strawberry, though).
Alexei's love and dedication to his Slurpee gave us one of the best reaction memes that I've ever seen: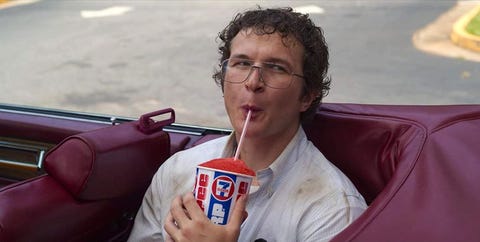 Netflix
Later, at the Hawkins Fun Fair, Alexei has a bit of fun playing a dart game, and the look of joy on his face after he wins a Woody Woodpecker prize is so wholesome. However, he is soon killed by Grigori, an Arnold-as-The Terminator-esque Russian operative. RIP sweet prince.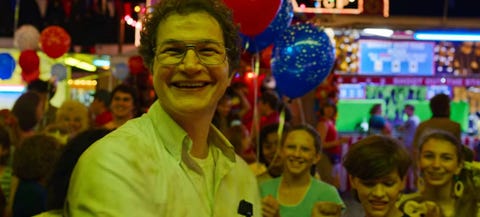 Netflix
However, I am not the only one who was moved by Alexei's short but impactful life on Stranger Things. Fans on Twitter have been sharing images and memes of his sweet cherub face online.
nobody:
me everytime i even think about alexei:#StrangerThings pic.twitter.com/dF0VN2yDHB
do you know why alexei "smirnoff" is one of the most dangerous men in the world?
because he stole all of our hearts #strangerthings pic.twitter.com/3fiYUuSWP5
In all seriousness Alexei is my favorite character of st3 #StrangersThings pic.twitter.com/rSEQ3c9ypN
Alexei was so pure and adorable while discovering new things 😭 HE DESERVED BETTER #StrangerThings pic.twitter.com/FVlGv7OeKl
Things Alexei deserved: not tHAT, definitely noT THAT, NOT THAT NOT THAT NOT THAT pic.twitter.com/Iawifw2Q3R
Meet Alexei/ Smirnoff 🙌
He like Cherry Slurpee and Loony Toons
But is also "THE MOST DANGEROUS MAN IN THE WORLD"#StrangerThings pic.twitter.com/8IpR5J5al1
Me @ the Stranger Things writers after watching Alexei, Billy and Hopper die #strangerthings #StrangersThings3 pic.twitter.com/UNj5xoDaAC
But if you want to see Alexei again, you don't have far to look. According to iMDB, the actor that plays Alexei is named Alec Utgoff, and he's currently filming a miniseries about Dracula that's set to debut later this year. We will be watching. Intently.
Source: Read Full Article