The former Denver Broncos wide receiver was found dead in the shower of his Roswell, GA residence after cops received a call 'in reference to a cardiac arrest.'
AceShowbiz -NFL community has reacted to the shocking death of Demaryius Thomas. After news broke of the former Super Bowl champion's sudden passing, Tom Brady and Tim Tebow have expressed their grief on social media.
"Im so sad to wake up this morning to hear about the passing of my friend Demariyus Thomas," Tom wrote on Twitter along with a throwback photo of him and Demaryius. "We were all blessed with his humility and positive spirit, and we will all miss him. This photo is from the Hall of Fame this past August, a source of light as always. RIP."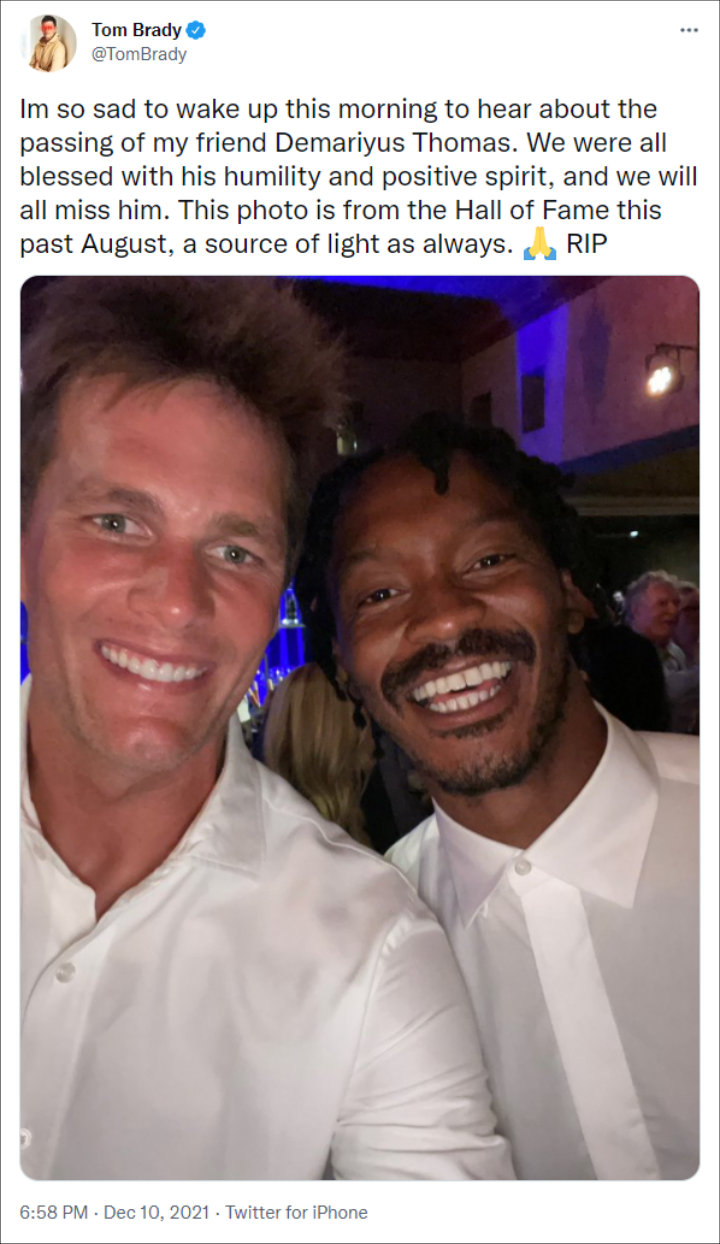 Tom Brady mourned the death of Demaryius Thomas.
His former Denver Broncos teammate, Tim, tweeted, "Woke up and saw the really devastating news about my teammate and friend, Demaryius Thomas. So many are going to remember him for his athletic ability… but I'll be remembering him for his kindness, his smile that would light up a room, and the love he had for those in his life."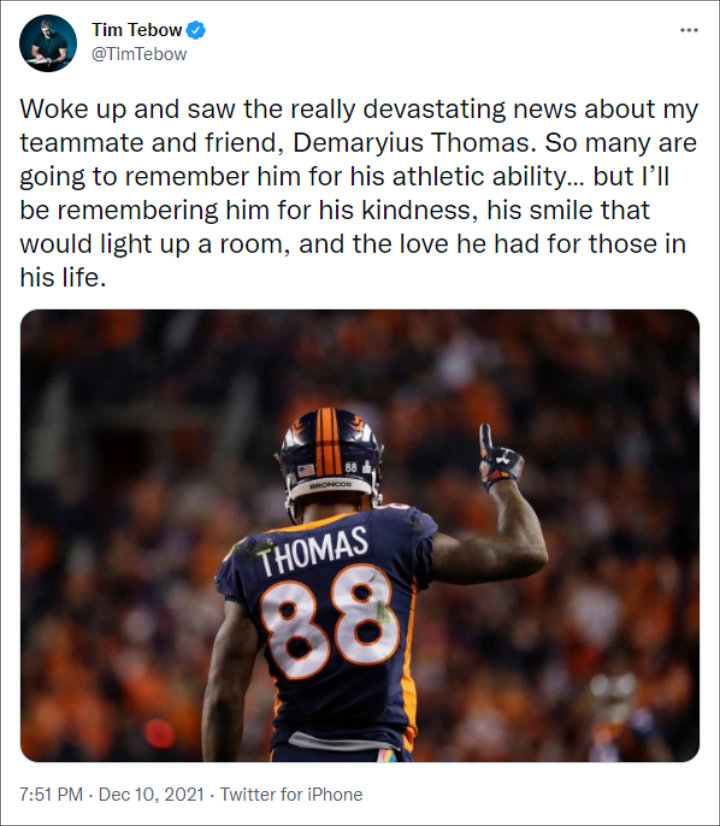 Tim Tebow also sent his condolences following his former teammate's passing.
He also said of the late Demaryius during an appearance on ESPN's "First Take" on Friday. "When he walked into a room he made it brighter," he remembered his former teammate.
Peyton Manning said he was "absolutely devastated" as he described Demaryius as "a better person than he was a player, and he was a Hall of Fame player." He added, "That tells you how good of a person he was." Recalling their last text messages on Tuesday, he went on sharing, "He treated my kids like they were his own He was there for every teammate's charity event."
Meanwhile, the Denver Broncos said in a statement, "We are devastated and completely heartbroken by the sudden passing of Demaryius Thomas. D.T. was beloved by our entire organization, his teammates and coaches, and our fans." It continued to read, "We have lost an incredible player and a special person in Demaryius Thomas. Our hearts and deepest sympathies go out to the Thomas family and all who are grieving this unimaginable loss."
Demaryius, who last played for New York Jets before his retirement in 2019, was found dead in the shower of his Roswell, GA residence on Thursday night, December 9. According to police documents obtained by TMZ, cops responded to a call "in reference to a cardiac arrest."
Dispatch had advised them that the victim was "not conscious and not breathing." When they arrived, the officers had to push a gate open with their hands in order to gain entry into the home. Once inside, cops found Demaryius lying down in the shower on his back, with clear signs of rigor mortis visible. He was declared dead on the scene.
Officer Tim Lupo said on Friday, "Preliminary information is that his death stems from a medical issue, and our investigators currently have no reason to believe otherwise." An autopsy was scheduled to be performed on Friday.
Meanwhile, Demaryius' family suspected he died of seizure. LaTonya Bonseigneur, a first cousin who grew up with the late former athlete, told The Associated Press, "He had been suffering from seizures for over a year, and we believe he had a seizure when he was showering." He added of his cousin, "He was alone and a friend couldn't get hold of him, so he called his driver, who has a key because of these seizures, and he went into his home and found him in the shower."
Source: Read Full Article