The surrogacy accusation emerges after the model shares a photo of her 3-month-old daughter on Instagram, prompting one user to claim that she used a bump prosthetic.
AceShowbiz –Chrissy Teigen has responded to speculations that she used a surrogate for baby Esti, whom she shares with husband John Legend. Making use of her Instagram account, the former Sports Illustrated model shut down the claim in an epic way.
On Tuesday, May 9, the mom of three posted a picture from her C-section. "Extremely realistic 'moon bump,' " so she wrote sarcastically.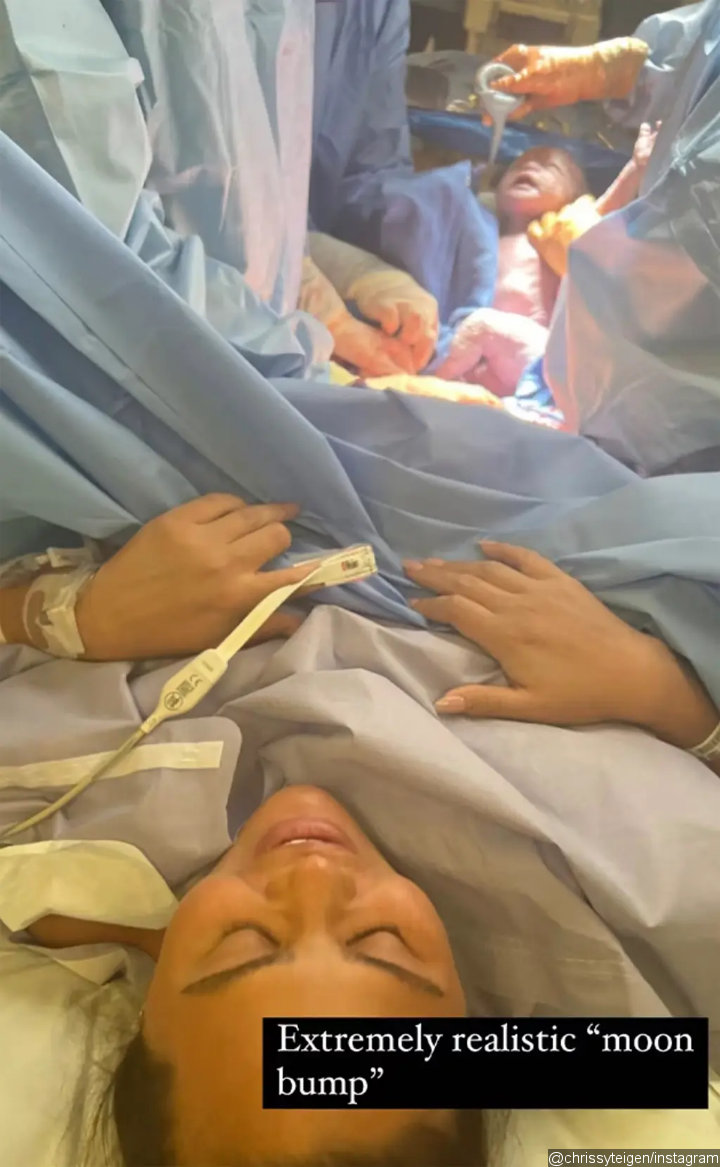 Chrissy Teigen clapped back at trolls.
The surrogacy claim emerged after Chrissy shared a snap of her 3-month-old daughter on Instagram on Sunday. The post apparently prompted one user to ask if the "Cravings" author welcomed her third child via surrogate. Another follower, meanwhile, suggested in their reply that the star used a bump prosthetic "called a moonbump."
Chrissy is no stranger to clapping back at trolls. Back in April, the "Chrissy's Court" star defended her husband amid criticism from her followers on the way he carried Esti during her family vacation in Venice, Italy.
After the "Lip Sync Battle" co-host posted a series of photos from the getaway, one of her followers jumped into the comment section to criticize her and her husband by writing, "Can u please give them some advices?" and tagging an Instagram user who seemingly could explain "how to wear the carrier right."
"It's not safe. Her position, her neck. The device was made to be used that way so if it comes off, that's on him," someone added. A third follower simply wrote, "It's safety, not preference."
Chrissy caught wind of the backlash and responded to one of the comments, " 'right' is how she is comfortable." She also stressed that Esti was "safe and happy," adding that her baby daughter does not like being held "high and tight" and that she likes to be able "to look around and see her daddy."
The criticism aside, some fans flooded the comments section with gushing remarks. "Momma and daddy know best what THEIR kids like [red heart emojis]," a fan raved. Another follower penned, "Could y'all look any more perfect." Similarly, a third follower praised, "Beautiful family! Kids are adorable."
You can share this post!
Source: Read Full Article