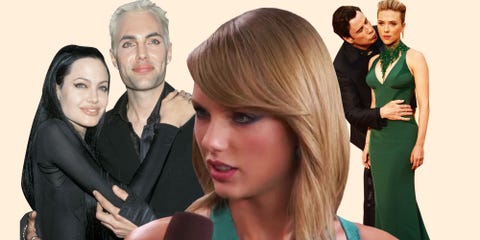 Brilliant talent, stunning dresses, hundreds of flashing cameras…what could possibly go wrong on a red carpet? Apparently, a lot. From clueless reporters to downright absurd celebrity behavior, here's a look at some of the most outrageous and cringe-worthy red carpet interactions of all time.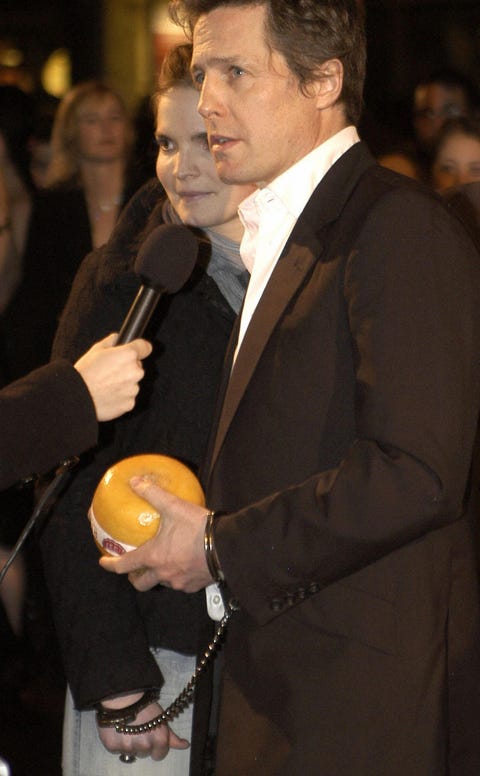 'Member the time a Dutch prank TV show host straight up handcuffed herself to Hugh Grant? And then told him she didn't have the key? And then made him stand awkwardly with her to wait for police and fire rescue to arrive? And then only spent two hours in jail for it? 2007 was a time to be alive.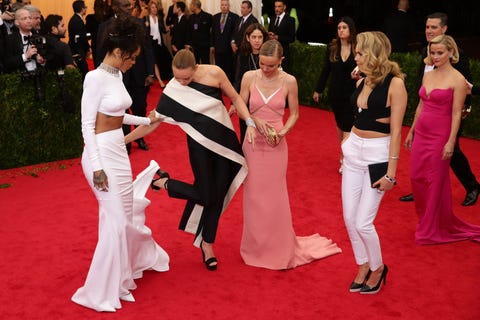 Fashion designer Stella McCartney came *thisclose* to ripping RiRi's skirt right off her body with her heel. Which the singer probably would've rocked anyway, because, um, she's RIHANNA.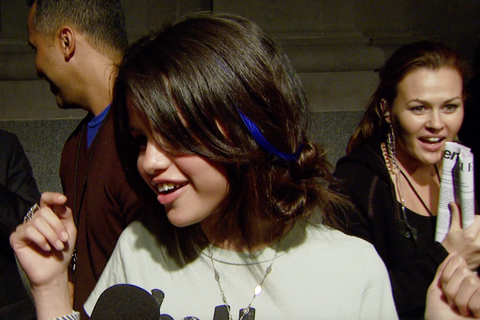 If this 2007 interview didn't have you running to the drugstore for a box of blue hair dye, you're lying. To this day, "I like a little edge, a little pop in my hair, so I wanted to add something different, especially for the Teen Vooooggguuueee party" might be the cringiest-yet-funniest red carpet quote of all time. Even Selena herself knows how truly iconic it is: In 2021, she made fun of the '07 moment in a TikTok, captioning the clip: "To my younger self: you're not cool bro."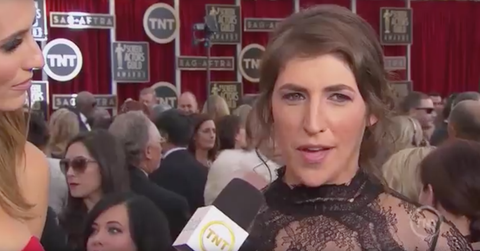 A reporter asked The Big Bang Theory actress *and neuroscientist* Mayim Bialik, "Being on the Big Bang Theory, how many people—not that you aren't a genius—think that you can solve calculus at the drop of a hat?" Bialik brilliantly replied to the insulting question by saying, "I was trained in calculus for several years. I'm a neuroscientist—you may not have known that?"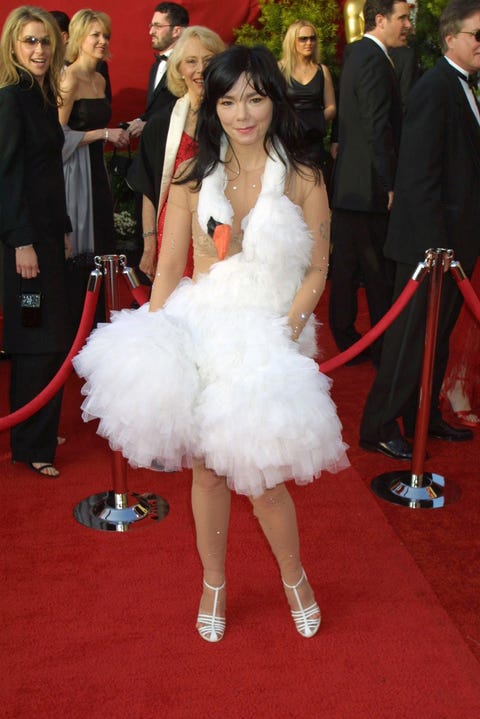 This is one of the most iconic bird dresses of all time—that's a category, right? Björk also brought six ostrich eggs with her (consider them accessories). "I was dropping them carefully on the red carpet," she later told GQ. "But other people's bodyguards kept picking them up and saying in their thick American accents, 'Scuse me, ma'am, you dropped this.'"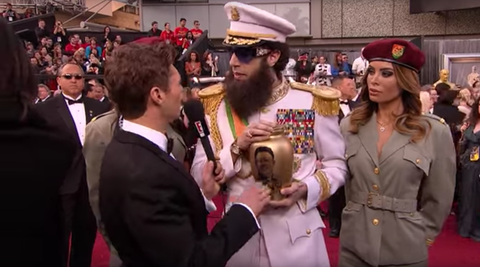 Sacha Baron Cohen showed up to the carpet dressed as his character from The Dictator, accompanied by female bodyguards and an urn of "Kim Jong-il's ashes." Things got really weird when he "accidentally" dumped the material all over Ryan Seacrest's Burberry tux.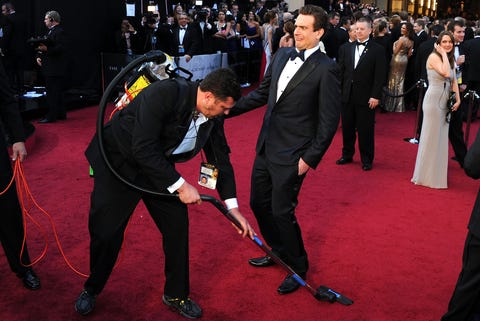 After Sacha Baron Cohen's stunt, someone swooped in to clean up—clearly unaware they were in the presence of (and blocking) thee Marshall Eriksen!! I know…I honestly can't believe it either, Jason.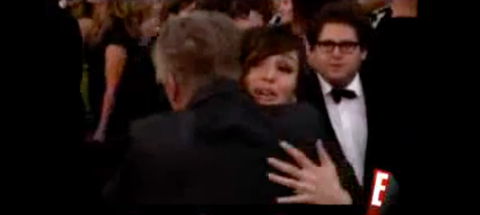 Gary Busey repeatedly interrupted Ryan Seacrest while he was interviewing Laura Linney and Jennifer Garner for E!, but the encounter became truly uncomfortable when Seacrest asked Busey "do you know Jennifer Garner?"—and Busey responded by abruptly kissing her neck. Garner was visibly taken aback and responded to Seacrest's next question with a very valid one of her own: "Aren't you going to ask me about getting kissed on the neck on the red carpet by this man? Um, that was nice."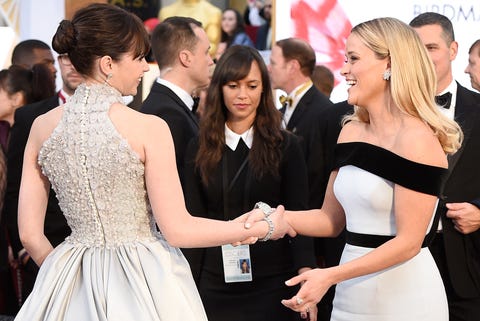 Tag yourself: I'm the publicist in the middle silently judging Reese and Felicity for quite literally—and firmly, might I add—shaking wrists.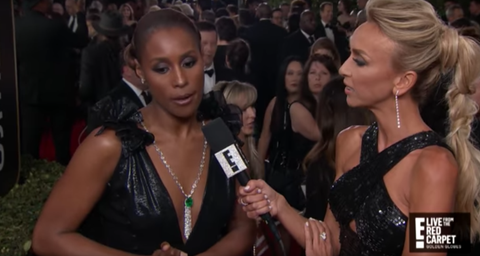 But, wait…Issa Rae already has a memoir. It's called The Misadventures of an Awkward Black Girl. It was published in 2015…it was a New York Times bestseller.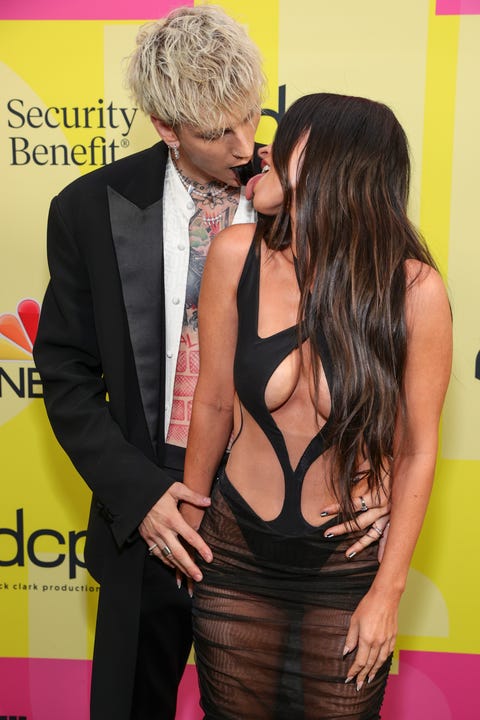 What's worse: Megan Fox and Machine Gun Kelly (not to mention his DYED TONGUE) making out/licking each other on the red carpet, or him telling her during their first meeting, and I quote, "I am weed"? I mean, it's only fair two of the hottest people on Earth are also two of the most awkward.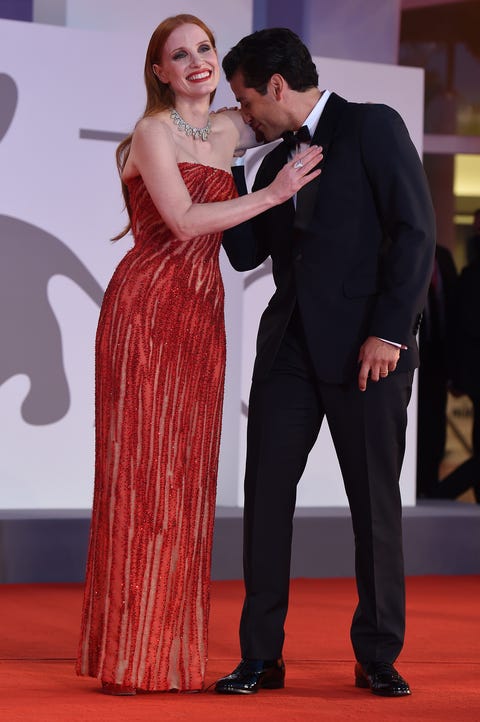 Things got intense between Jessica Chastain and Oscar Isaac at the 2021 Venice Film International Festival. I'm talking arm kisses, loving looks, face caresses…let's just say the tension was thick. It would've been cute and all if they weren't both, ya know, married to other people.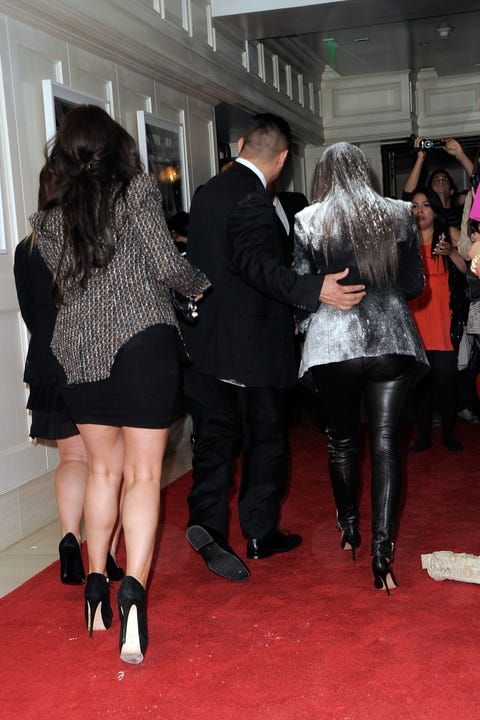 An animal rights activist unleashed on Kim at her 2012 fragrance launch, ruining her outfit and yelling what sounded like, "Lousy fur hag!" at the reality star. Which tbh, kinda sounds like it could be the name of a pretty awesome punk song from the '80s, but I digress.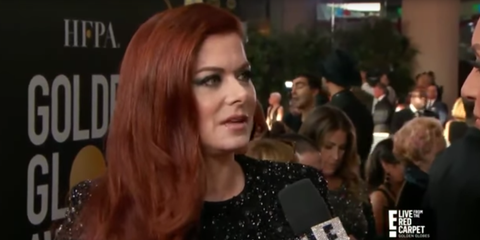 "I was so shocked to hear that E! doesn't believe in paying their female co-hosts the same as their male co-hosts," Debra Messing told E!'s Giuliana Rancic, referring to former E! co-host Catt Sadler. In December 2017, Sadler quit the network after learning that her male colleague, Jason Kennedy, earned nearly twice her salary.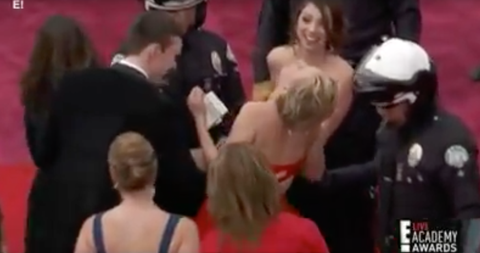 One of Jennifer Lawrence's many famous fumbles went down on the 2014 Oscars red carpet, the year she was nominated in the Best Supporting Actress category for American Hustle. The year prior, she fell on her way to accept her Best Actress award for Silver Linings Playbook.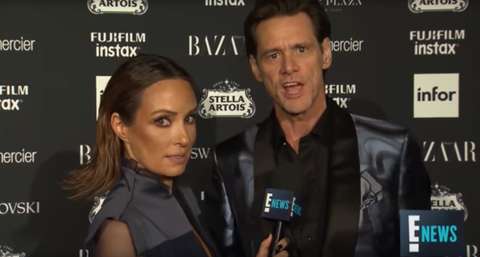 If you want to see a red carpet reporter work hard for her money, look no further than Catt Sadler trying to rein in a very philosophical(????) Jim Carrey. "I wanted to find the most meaningless thing that I could come to and join," he said of his attendance at Harper's Bazaar's ICONS party. He then proceeded to explain how nothing was real, not even him.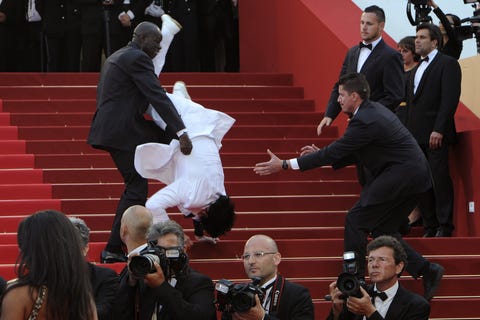 Prepare to have your mind blown. You know that meme of 🎶🎵 Jasoooon Deruloooo 🎶🎵 falling down the steps at the Met Gala? THAT WASN'T ACTUALLY HIM. And the pic? Wasn't even taken at the Met Gala. It was an unnamed man trying to crash the Cannes Film Festival in 2011. In 2015, the singer told Radio.com about it, revealing, "My grandmother, she's 93-years-old, she called me. She's like 'Are you alright? I heard you fell down the stairs.' I was like 'Grandma, I'm good. I ain't fall down no stairs!'" Guess people still didn't get the memo though, because he tried again in 2019, posting on Twitter: "Let's clear one thing up, that was NOT me at the #Metgala 😂😂 y'all play too much, I was right on my balcony in Miami."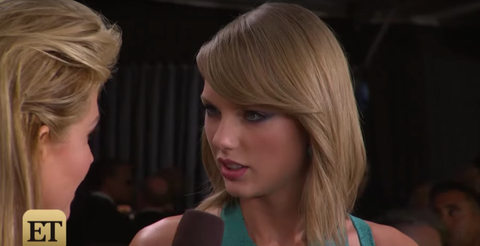 While interviewing Taylor Swift on the 2015 Grammys red carpet, ET's Nancy O'dell actually told Taylor Swift: "You're going to walk with more than a trophy tonight, I think, lots of men." Taylor responded with perhaps the fiercest death stare of all time. "I'm not going to walk away with any men tonight," she said. The conversation lightened up from there, but it was off to a rough start, to say the least.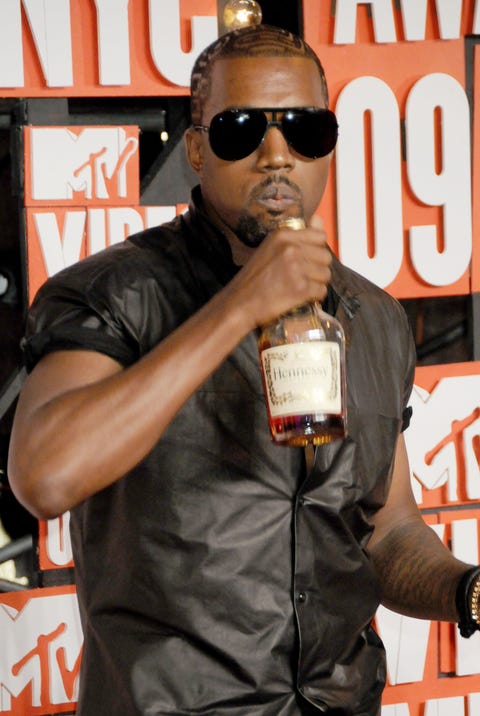 Speaking of Tay, here's Kanye downing a bottle of Hennessy mere hours before he started the feud of the century with her at the 2009 VMAs. Yep, his outburst makes A LOT of sense now.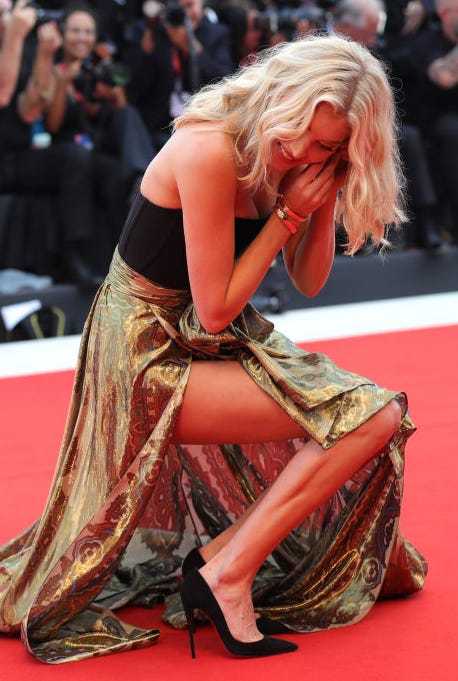 The model had a "Kim, there's people that are dying!" moment when she stopped the presses—literally—to locate her lost earring. With high stilettos and an even higher skirt slit, you gotta appreciate the commitment.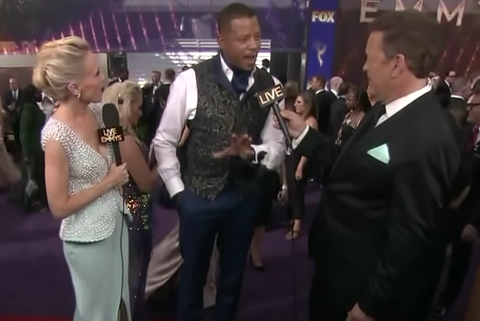 While Professor Terrence Howard does have a nice ring to it, the actor's bizarre chat with KTLA 5 at the 2019 Emmys—in which I heard the name Pythagoras for the first time since 10th grade geometry class—just left everyone confused. Don't believe me? Try deciphering this gem of wisdom: "All energy in the universe is expressed in motion, all motion is expressed in waves, all waves are curved, so where does the straight lines come from to make the platonic solids?" Thought so.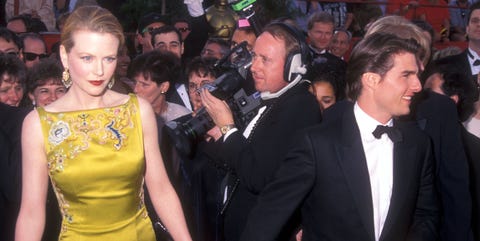 At the 1997 Oscars, Joan Rivers belittled Nicole Kidman over the color of her gown. "Nicole! Come tell me why you wore such an ugly color!" she said. Nicole, either not hearing Rivers or opting to make conversation with people who weren't going to insult her, walked on by. Rivers continued, "I hate that color! You are making me puke!"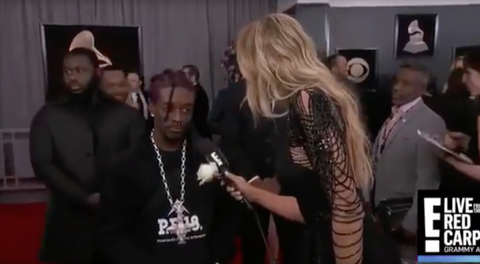 Giuliana Rancic and Lil Uzi Vert were not on the same page at the 2018 Grammys, at least not in terms of their enthusiasm levels. The exchange went something like this:
Giuliana: How are you feeling?
Lil Uzi Vert: I'm feeling normal.
Fair enough.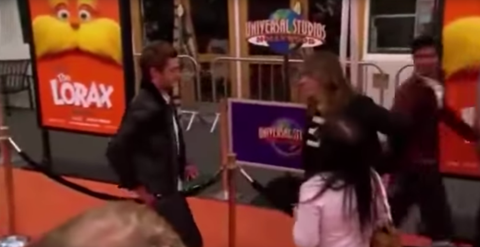 Dropping a condom in public might be awkward under any circumstances, but it's especially awkward when it happens at the premiere of a children's movie. Zac Efron learned this the hard way, when a condom shot out of his pocket at the 2012 premiere of The Lorax.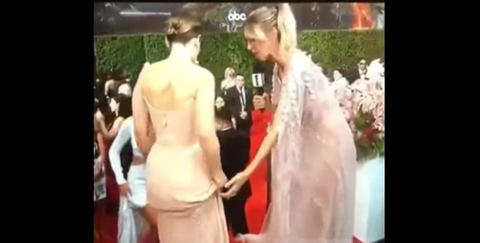 When Giuliana Rancic spotted Heidi Klum making her way over for an interview, the E! co-host told Emilia Clarke—with whom she'd been talking—that she'd let her go. The Game of Thrones star either didn't hear Rancic or wasn't in a rush to leave, because she stayed put. "You can go," Rancic repeated. The co-host was polite, but the words hung awkwardly nonetheless.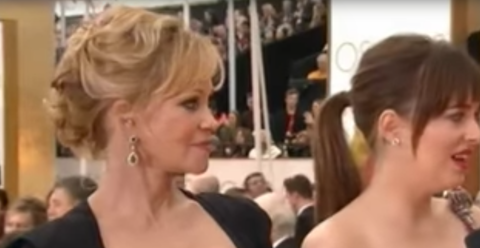 This cringe-worthy interaction began as small talk: Had Melanie Griffith seen Fifty Shades of Grey? She hadn't—and she noted more than once that she didn't want to, either. "Alright! You don't have to see it!" Johnson eventually snapped. The #momyoureembarrassingme exchange inspired many memes.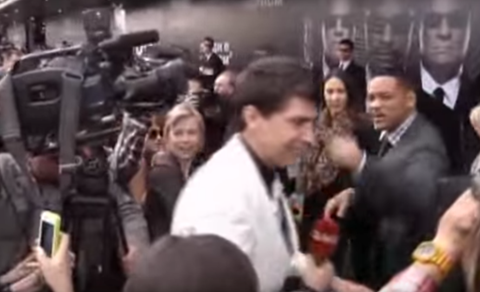 Controversial Ukranian "prankster" Vitalii Sediuk gave Will Smith a hug on the red carpet, then tried to kiss him. In response, the actor slapped Vitalii and said, "What the hell is your problem, buddy?"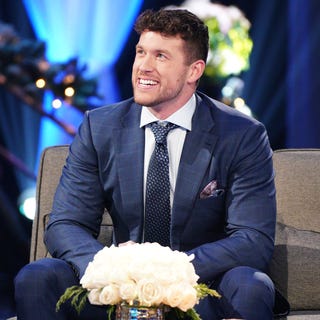 Source: Read Full Article